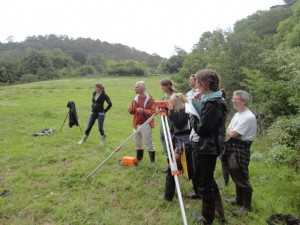 A three day permaculture surveying and earthwork intensive designed to give you all the tools necessary to carry out your own earthworks with comfort and confidence. Learn practical permaculture earthworks and water management techniques to drought proof any landscape.
This three day practical workshop covers the theory and the hands-on practical skills to implement regenerative permaculture earthworks in your own backyard, farm or homestead. Learn about the principles of designing water systems into your landscape that conserve water, rehydrate landscapes, stop erosion and save money.
Students can expect to learn:
permaculture contours and flow mapping
basic surveying skills using a variety of analog and professional equipment
mulching and planting strategies
swale layout and construction
advanced permaculture strategies for effective water management
Ideal for landscapers, farmers, homesteaders, gardeners, permaculture designers and consultants, this course offers a wealth of knowledge and practical hands-on experience to get you started in regenerative systems design.
Internationally trained and experienced designer Theron Beaudreau will lead students through water harvesting and land repair theory and application. Certified in Permaculture Earthworks through the Permaculture Research Institute of Australia, Theron has worked in a variety of environments and brings a wealth of knowledge and experience to this exciting three day workshop.
When:
Friday, October 26, 2012 at 9:00 AM –
Sunday, October 28, 2012 at 6:00 PM (CDT)
Where:
283 Jack Pine Rd.
Red Rock, Texas 78662
Registration and Course Fees:
$425-$275 sliding scale — $75 deposit due up front through eventbrite registration.
Fees include hands on instruction, camping, meals, and fun!
Don't let money be a barrier! If you are unable to afford the full course cost please contact us for details on our sliding scale offer. Whereas, we would like everyone to be able to attend our courses regardless of financial consideration, we also need to insure we are meeting our own needs. We offer work trade options and are happy to negotiate price based on your needs.