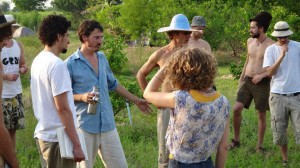 Please join me at the Arlington Unitarian Universalist Church on November 11th at 11:00am for what is sure to be an exciting and informative discussion on Soil Health and its contribution to a healthy society. This is a free talk and all are welcome to join and learn together about the connection our soil health has to play in our personal health.
The majority of social issues today, including poverty, hunger, health care, unemployment, disease, and so on, are literally rooted in the health and vitality of our soils. Soil is not just the stuff under your feet, it is the foundation of all terrestrial life on the planet, and the solutions to these and many other challenges facing humanity today… are as cheap as dirt.
The event is open to the public. Donations to help Theron advance and progress international aid work are encouraged and appreciated.
Join me on Sunday, November 11th at 11:00am at:
Arlington Unitarian Universalist
2001 California Ln, Arlington, Texas 76015
See you there!