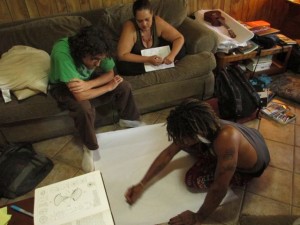 Teaching my first Permaculture Design Course, and everything that led up to it, was an intense process. This project was nearly 8 months in the making before the course was actually held and may take more than a month to compile all the information into a cohesive and comprehensive package for the diploma.
Design Process
The idea to teach a PDC in Austin came to me one late night as I was trying to sleep in the dorm room of my guest house in Phucket, Thailand… but the observation started long before that sleepless night.
I knew right away, when I first learned about permaculture, that this was something I wanted everyone to know about. It was important for me to share and connect with people around the ideas of restorative culture.
My entire reason for being in Thailand that fateful night was because of this drive. But the idea to actually schedule a course, even though, at the time, I knew I was not ready, came as a result of wanting to stack some functions that would allow me the opportunity to take a trip home while also getting my needs met and insuring that I would be able to continue my work abroad. At the time, I had very little money to travel with and recognized this as an opportunity to take a trip back home without loosing a significant amount of money, and with it, the opportunity to continue my travels abroad.
After My own PDC I set out on a journey to hone my skills so that I would one day be able to teach a Permaculture Design Course of my own. I included this section to help capture some of the pieces that led up to the decision to schedule my first Permaculture Design Course in August of 2012.
Fulfill my dream of teaching the Permaculture Design Course
Take a trip home to Austin to see friends and family on a shoestring budget
Challenge myself to learn all the aspects of promoting, booking and teaching a course
Share the design course with those who have contributed to my work and adventures
Share the design course with people in Austin already doing amazing work but who have not had the opportunity or financing
Build a curriculum that I could use and refine over time
Gain enough hours teaching in a PDC to meet the minimum qualifications to become a PRI Recognized PDC Teacher
Develop my own skills and knowledge of permaculture design systems
Provide the tools and the inspiration to supercharge Austin's already thriving permaculture scene
Provide a source of income for organizations doing positive work in and around the Austin area
After formulating a long list of goals in my head I began to analyze the resources, opportunities and limiting factors that influenced my design. The result was more than just a sleepless night. I recognized an opportunity and seized the chance to begin creating a buzz. I worked out the numbers and tested the financial soundness of my theories. Once I felt confident that this was realistic and the numbers were practical and grounded I wrote this article as a product of my initial design.
The design phase of this project was immense and took several months. A portion of the design for individual sessions of the course was done "on the spot" during or just prior to the session. I've found that I perform well in these circumstances and leaving some areas loose makes the course more dynamic and gives more opportunity for tuning the course to student's needs and interests. There were many elements to the design beyond just curriculum that will be covered in this section.
On the morning of August 18th, a small group of thoughtful and interesting people gathered together to learn and share their experiences in permaculture design. The resulting two weeks was a learning experiences for all of us! This section details some of the action of that two week adventure.
Permaculture Design Course at Creation Flame from Chowgene Koay on Vimeo.
I was very happy with both the course and all the feedback received. It was definitely a community effort and I was very thrilled to have such a strong and vibrant community to work with. Overall, there is nothing more I could have asked for! For more detailed evaluation, please see the "Follow-up" column of each of the course outline images on the Implementation page.
I learned a great deal from the facilitation of this course and had such an amazing time teaching and sharing with this community. Much of the lessons learned have already been integrated into my plans for future facilitation and courses.
Here are some of my favorite quotes from all the feedback:
"This Permaculture Design Course was more than I could have asked for. Expectations surpassed. I hold more hope for our species now than ever before, while truly grasping the gravity of the situation. Thank you."

"A whole new universe was presented to me in two weeks!"

"I have experienced such an amazing two weeks with Theron building us up all along the way. When it comes to Permaculture, I could not tell you enough what amazing resources Theron is."
Next Steps
My next steps are to submit registration to become a PRI Recognized Teacher and schedule my next 2 Permaculture Design Courses.
The Appendix captures all the things that don't fall under the above sections and provides a body of support for the richness of the information above. This section also provides a space for your assessment of the permaculture diploma project as well as your peer reviews. The appendix includes: