Would you like to bring permaculture to your local area? Interested in learning how to be a permaculture designer or educator yourself? We offer courses, workshops and personal mentoring on a broad array of subjects all across the globe. Check the Courses section to find out if there are any courses scheduled near you. If not, Contact us for information on how you can bring courses or workshops to your location. We also provide mentorship to those interested in becoming permaculture designers, educators or consultants themselves or would just like some personal advise from a permaculture professional.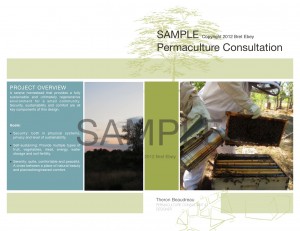 Do you have a property you would like designed? Are you looking for advice on where to begin? Need professional advice on what to look for when buying land? Looking to create a passive, low maintenance system that is bursting with abundance or turn a degraded landscape into a peaceful oasis? We offer design and consultation services on any scale. Whether you are looking for a full Master Plan design or just a quick list of ideas to get you headed in the right direction, Contact us for details about how to insure you are making the most of your landscape.
Looking to turn your veggie patch into a business? Need help figuring out how to get volunteers engaged in your non-profit? Want to start offering workshops to your local community? Interested in ways to make your current business more ethical AND profitable? With years of experience in cooperative business management, community organizing, Open Book Financing and ethical business directorship we can help take your business planning to the next level both environmentally (earth care), ethically (people care) and financially (resource share). Contact me for details on how we can help insure your organization stays relevant and viable for a new world.