Permaculture Design and Consultation Services
Do you have a property you would like designed? Are you looking for advice on where to begin or what to look for when buying land? Looking to create a passive, low maintenance system that is bursting with abundance or turn a degraded landscape into a peaceful oasis? We offer design and consultation services on any scale. Whether you are looking for a full Master Plan design or just a quick list of ideas to get you headed in the right direction, Eco-Pioneeers.org can help to insure you are making the most of your landscape.
Why Consultation is Important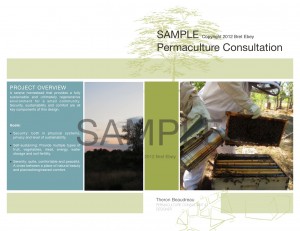 Permaculture Design can vary greatly from urban, to suburban and rural landscapes. Each landform, soil profile and climatic region has unique characteristics that help shape and define a permaculture design plan. Eco-Pioneers.org is here to help you navigate the process for determining the best design for your needs and create a design that expresses the full potential of your unique site. With years of experience around the world, our design team has all the tools you need to start you on the path toward abundance.
As the first step of working with you to create a Permaculture Design for your property, we offer a Free Goals Assessment. Simply fill out the online form and submit it to start your professional Permaculture Consultation.
After we receive your Free Goals Assessment we will send you an initial consultation estimate. This estimate will include at least one onsite analysis at the single-day ($825) or half-day ($450) rates. Onsite analysis is critical to the process of creating a proper and effective design for your site.
Durring our onsite analysis we will discuss a verity of options and solutions that are appropriate for you based on your goals and our brief site analysis. For some clients, this is all the information necessary to start moving in the direction of abundance. For others, a more detailed design plan is required.
Fully tailored to your needs, Eco-Pioneers.org's design team will provide you with a professional permaculture analysis and design for your future.
Please contact us for more information or for a free consultation estimate.