Welcome to the Eco-Pioneers.org Courses' Listing. Our courses are updated and new courses are added frequently so be sure to check back often for more!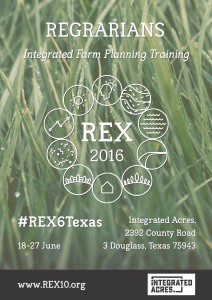 On June 18th – 27th, Integrated Acres is honored to welcome Regrarians' Darren J. Doherty and Lisa Jane Heenan for a 10-day Integrated Farm Training (REX). This integrative design training will be held at our 150 ranch in the Pineywoods eco-region of deep East Texas.
Resilient agricultural practices such as Holistic Management, Keyline®, Carbon Farming, Silvopasture, Agroecology and Agroforestry are quickly gaining attention as tools for the future of farming. The Regrarians Platform, developed by Darren and Lisa, combines years of experience working with all these disciplines and many others to create a step by step process toward the cutting edge of restorative agriculture.
Integrated Acres exists to train more young people in the business and lifestyle of regenerative agriculture. We seek to fill the gap between young farmers entering farming and ranching for the first time and an aging generation of farmers looking to retire. We believe that the REX 10-day training can help anyone develop a successful farm or ranch enterprise.
More…
Please view a list of our Past Courses.
Interested in bringing permaculture to your local area? We offer courses, workshops and personal mentoring on a broad range of subjects all across the globe. Contact us for information on how you can bring courses or workshops to your location. We also provide mentorship to those interested in becoming a permaculture designer, educator or consultant themselves or would just like some personal advise from a permaculture professional. Check the Services section for more details.