A goals assessment is vital to any design work with land based design being no exception. In order to determine the goals for Ranch X I've decided to approach the work as if it were an actual consultation. Of course, because this consultation involves me personally, it will go much deeper than the simple format I've used for consultations in the past. Testing this process however will be a helpful tool for identifying the effectiveness of my goals assessment process.
I'll start with a list of goals for this Permaculture Diploma Project, followed by the results of the goals assessment form that I use for consultation work and rounded out with a holistic goal for the site and the design work.
Diploma Project Goals
Test my consultation methods and land based permaculture design skills
Develop a portfolio of comprehensive master planning design work
Extend my edges with permaculture design and consultation
Begin to develop the foundational platform for future business and design education
Consultation Goals Assessment Form Results
The consultation form I am currently using to assess a clients goals was borrowed from Christian Shearer of Terra Genesis with minor edits and refinements. The form is currently posted under the Services section of my website and is intended as the main tool for the initiation of a consultation. So far it has had little use but seems to get a the finer details of what is important for a consultant to know when entering a consultation with a client.
Currently I only have results from my own assessment but I'm hoping to also gather these results from my Step Mother so that our individual goals can be represented in this project.
The form I use can be found here: Goals Assessment Form
The results from my goals assessment can be found here.
Holistic Context (formerly Holistic Goal)
As seen in a previous project, a holistic goal design process can be a massive undertaking. This area is a beginning – something that will likely continue to evolve and develop for some time into the future.
After a brief conversation with Allan Savory, I was informed that the Holistic Goal terminology had been changed to Holistic Context. From here on out, I will refer to this as a Holistic Context as I believe this helps define the process more accurately.
Whole Under Management
I repurposed the mindmap from my personal Holistic Context to help define the Whole Under Management for Ranch X. Many of the elements remained the same where as others were added onto.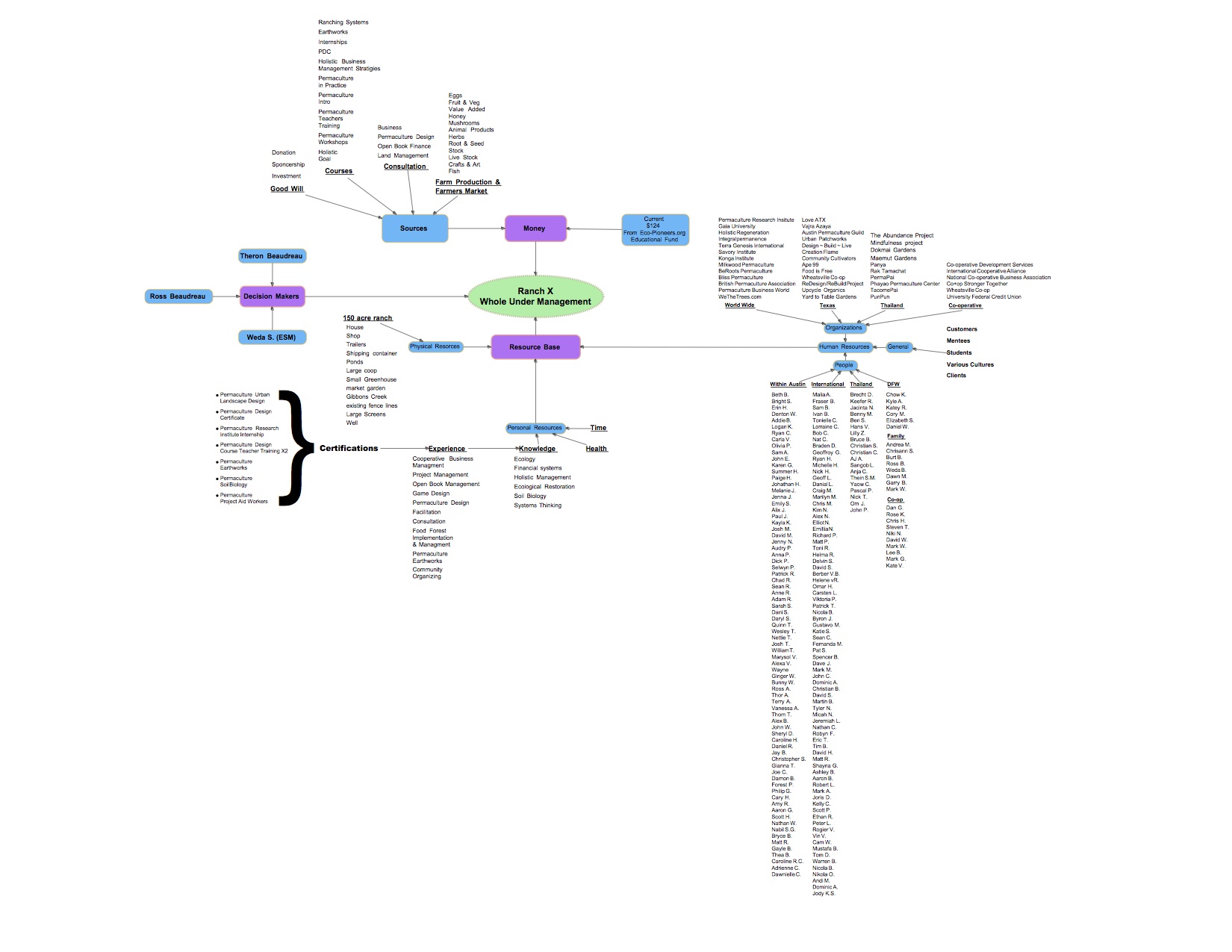 Quality of LIfe
Ranch X will facilitate:
A peaceful, fun environment for continual growth & learning that is always simple, safe & inviting
Loving, authentic relationships that are fun, inspirational & always mutually beneficial
An environment of surplus abundance in both knowledge and resource that is continually regenerated into ever greater abundance over time
A generational bridge between old & new ranchers & farmers interested in holistic production
A sense of stewardship & responsibility in all elements of land & business
Forms of Production
 A functional example of regenerative ecological design – regarding all elements of eco-social systems (land & people)
Equitable & accountable participation & apportionment of land & resource
Spaces of tranquility as well as spaces of productivity
Systems that promote & facilitate open, honest & compassionate communication
Credible platforms for the accumulation & distribution of documentation, education & inspiration
Financial abundance from farm yields
Future Resource Base
Soils are high in fertility, carbon & water holding capacity
There is a large amount of clean water held in the landscape throughout the dry season
The property contributes more to the aquifer than it requires for its maintenance
Open cooperation & collaboration with neighboring properties
Large networks of students & teachers
healthy, happy & thriving communities that exists both on & off the land
Expansive areas of abundant & fertile landscapes
Vast repositories of poignant information